Exchanges still reign as the premier track in the cryptocurrency asset arena, with fierce competition in this space garnering the most attention from a wide user base.
After enduring several bull and bear cycles, waves of entrepreneurs are continually pondering one key question: How to efficiently assemble core resources like traffic, capital, and technology in a decentralized world to integrate a more dynamic and valuable new ecosystem that benefits all participants in the Web3 world? In response to this, the highly trusted digital asset trading platform, Bitdu, has put forth its own solution.
Firstly, let's provide a brief introduction to Bitdu, the trading platform. Bitdu was founded in 2020, and during its early operations, it focused primarily on compliance, technological research and development, product experience, and talent development while neglecting market promotion and operational activities. Consequently, its presence during the previous bull market was somewhat subdued. Nevertheless, it achieved commendable results, serving nearly one million users across 80+ countries. As the next bull market approaches, Bitdu has made thorough preparations.
Over the past few years, Bitdu has established itself as an industry leader in compliance, obtaining licenses such as the Lithuanian VASP, U.S. MSB Financial, and Canadian MSB licenses. Currently, Bitdu is actively advancing compliance efforts in crypto-friendly policy countries across Europe, the Americas, and Southeast Asia, making significant progress.
Bitdu has also assembled a stable and professional core team, comprising members from Web2 giants like Google, Sequoia, and Goldman Sachs, as well as top Web3 players like Binance, Huobi, and OKX. The decentralized atmosphere, combined with an enticing development philosophy, continues to attract top Web3 talent to join Bitdu.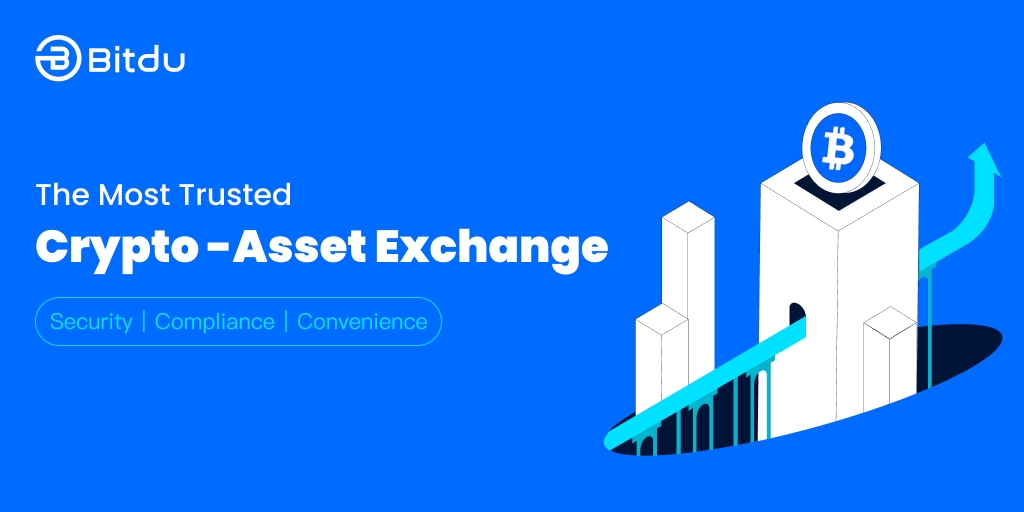 Secondly, what deserves special recognition is Bitdu's systematic and refined approach to its business modules. Bitdu's product matrix encompasses spot trading, derivative trading, and cryptocurrency-to-fiat exchange services. In the realm of spot trading, Bitdu employs the strictest standards to select the highest-quality assets for users and provide the best trading depth. For contract trading, Bitdu incorporates robust underlying technology to ensure the smoothness and stability of user trading experiences. The platform constantly iterates its mechanisms and rules to minimize risks during the trading process.
In terms of cryptocurrency-to-fiat exchange services, Bitdu supports one-click purchase of USDT using Visa and Mastercard, enabling instant fund deposits. It has also developed a convenient and favorable C2C trading system. Furthermore, Bitdu has established a deep partnership with the leading Web3 digital wallet, Olipay, introducing safer, more convenient, and efficient services for cryptocurrency deposits and withdrawals, cryptocurrency asset management, and lending. The platform is gradually extending cryptocurrency payment services into offline physical consumption, truly bridging the gap between Web2 and Web3.
Finally, let's summarize Bitdu's core advantages. In the early stages of the cryptocurrency asset world, user concerns about asset security are paramount. In response, Bitdu offers the most secure and reliable asset storage platform, thanks to its solid technical foundation and numerous emergency tests.
Bitdu employs high-strength SSL encryption to protect users' personal data, making it impossible for anyone to steal core user information, including private keys and passwords, serving as an impenetrable security firewall. Bitdu also maintains a 1:1 reserve for user assets, eliminating any risks of a bank run in extreme circumstances. User verification of malicious actors has been a weak point for many trading platforms, as skilled hackers who become active users pose a significant threat to user asset security. In response, Bitdu collaborates with the world's top KYC/AML provider, Sumsub, to rigorously conduct user background checks, swiftly identify potential risks, and exclude them with a single click. Furthermore, Bitdu has undergone security audits by authoritative third-party auditing firm Armors, indicating that, from a technical, mechanical, and systemic perspective, Bitdu has no vulnerabilities, allowing users to confidently use Bitdu's products and services.
Secondly, in terms of trading and fund management experiences, Bitdu maximizes user satisfaction to the fullest extent. In trading, Bitdu has independently developed a high-performance matching engine and a stable trading system, ensuring a smooth, low-latency, and near-zero occurrence of extreme incidents such as freezing and crashes during user transactions. In terms of fund management, Bitdu facilitates rapid exchange between major sovereign currencies like USD, EUR, JPY, and GBP and digital assets, significantly reducing the threshold for users to engage with cryptocurrency assets. Bitdu has also become the gateway for new users to enter the Web3 world.
It's worth mentioning that, during Bitdu's upcoming trading platform launch, it will introduce a trial fund activity to the wider user base. Users can visit Bitdu's official website, participate in the activity through designated channels, and follow the official process to claim their trading experience fund, starting their journey to effortless earnings. The zero-cost trading experience is Bitdu's generous gift to users at its platform launch.
In conclusion, based on core advantages in product experience, security compliance, risk control standards, and asset exchange, Bitdu will construct a more robust, risk-free, compliant, and inclusive cryptocurrency asset application ecosystem in the future. Bitdu will also use this as a magnet to attract more mainstream institutions to issue various innovative financial products, facilitate seamless transitions between cryptocurrency assets and multiple national fiat currencies, break down the boundaries between traditional finance and cryptocurrency assets, and unlock the value space of the new world, ultimately making the lives of users worldwide more prosperous through blockchain technology.